PEDIATRIC NURSING/July-August 2005/Vol. 31/No. 4
From the Editor
Veronica D. Feeg, PhD, RN, FAAN
It Takes a Dance – Cultivating Dancing
Partners in Policy for Children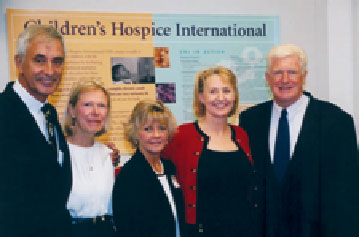 Left to right: Robert Maryanski, Jayne Parker, TerryPratt,
Ann Armstrong-Dailey, and Congressman James Moran.
Over 30 years ago, Eric Redman published a book that read like a novel but chronicled the real behind-the-scenes interactions within the legislative corridors of Capitol Hill. The Dance of Legislation (1973) describes the personal journey of a young, junior Senate staffer, making his way through Congressional procedures and personalities as he championed a bill for his senior Senator. In his own voice, Redman traces the drafting and passing of a national health bill, with all the maneuvers, plots, counterplots, frustrations and dedication involved. His book continues to be a lesson for aspiring health policy makers to understand the complexities of health matters when taken on by lawmakers. The politics of the issue becomes interpersonal in nature, and moving policy is a slow process where tenacity and persistence pay off for those with passion and commitment. Coupling the notions of "dance" and "legislation" provides an appropriate metaphor to describe the evolution of policies toward improving care of children with life-limiting illness. Refining the background of themes, pulling together advocates, highlighting the evidence, and focusing on regulatory rather than legislative action became the choreography of Children's Hospice International (CHI). In a Congressional briefing held recently, CHI made apparent that creating change for children's health care takes a group of energetic partners who can find music to "dance together" and move systems. The successes of incremental steps have yielded a major breakthrough in advancing a policy through government channels for pediatric palliative care that is all-inclusive and that will continue to play out in new spin-offs across the country.
Persistence Over the Years
Since 1983, Ann Armstrong-Dailey, founding Director of Children's Hospice International, made clear to anyone who would listen that the ultimate goal of the organization was to so ingrain the hospice philosophy into the care for children and adolescents, that it is no longer a separate specialty, but rather an integral component of total care for children (personal communication, 2005). No parent of a dying child wants to give up on making possible the hope for a cure. This total care approach meant that all-inclusive care should begin from the time of diagnosis, combining palliative care with treatment. CHI called on the U.S. health care system to do more to meet medical and emotional needs of children and their families. Ann was both tenacious and persistent in convincing everyone that seemingly opposite approaches could be combined. Central to the idea was to eliminate the roadblocks in private and public insurance programs that prevent children with serious chronic illness from receiving the full range of services they need. Historically, hospice and reimbursement guidelines require that patients forego all life-saving care before they can be admitted to hospice. Parents are forced to choose – and ultimately, many children who would benefit from palliative care services go without. In 1996, CHI developed a model to provide all-inclusive care for children. They elected to "dance" with partners from the Centers for Medicare and Medicaid Services (CMS) and called upon willing joiners from states in an initiative to spread the dance. The federal legislative leaders in the dance included Congressmen James Moran (D-VA) and John Murtha (D-PA), and Senator Robert Bennett (R-UT). In 1999, the CHI PACC (Program for All-Inclusive Care for Children and their Families ®) was launched with funding assistance of federal appropriation and technical assistance of CMS to begin in 6 states, providing the dance leaders with a range of experiences, narratives, successes, and lessons learned at all levels. One of the early state trailblazers was Florida. Ultimately, Florida's Partners in Care 1915-b waiver was approved on June 23, 2005, providing a blended package of curative and palliative care services, including respite and expressive therapies.
The Dance Today
In July 2005, a few of the partners in the dance reported with pride at the Congressional briefing on the success of their efforts. Congressman Moran shared personal insights and commitment to the success of the partnership. The CHI PACC model, through a CMS waiver of Medicaid rules, will allow the child and family to receive care from the time of diagnosis – with hope for cure – in the most appropriate setting based on family choice and not on funding stream (CHI, 2005). Following the announcement of Florida's waiver approval from HHS Secretary Leavitt on June 30th, the prototype can now be developed and implemented in other states that share the vision. Projections indicate that they not only expect programs to be budget neutral, but that they will save money and provide the right services for the right needs. The technical aspects of the dance today involve a variety of CMS waivers and offer numerous approaches that states can use toward providing the cost-effective services of the CHI PACC programs. Terry Pratt, Director of the Division of Integrated Health Systems from CMS, offered agency commitment to provide technical assistance to states seeking ways to integrate these waivers. Robert Maryanski, former administrator of the Florida Medicaid program, and Jayne Parker, PACC Project Manager for the Department of Health, described Florida's success stories of incremental waiver approvals that brought the briefing to a close on a hopeful chord. Their programs are underway in the first of many states to come.
The choreography was brilliant and set the stage for future pairings of partners in widespread state- based initiatives. Over the past years, the dance needed a large and diverse cast of participants to make change happen. The CHI PACC model is flexible enough to support a variety of state approaches, using diverse state legislative and regulatory tools. Along with CMS technical assistance, the ultimate goal of improving care for children can be realized by passionate partners who share the music.
Veronica D. Feeg, PhD, RN, FAAN
Editor