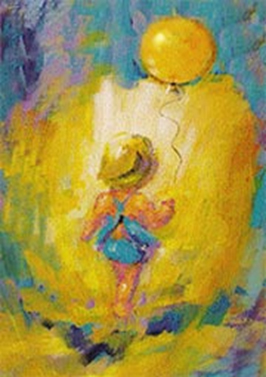 Marilyn Sunderman, an internationally known artist, was inspired by Children's Hospice International to create a uniquely beautiful painting, entitled "Towards Light".
Children's Hospice International (CHI) was founded in 1983 as a non-profit organization dedicated to the establishment of hospice care for children and adolescents with life-threatening conditions and their families.
Unfortunately, while the hospice and palliative care movement has grown rapidly in recent years, children have not been included in most of these programs. As a result, funds are needed by CHI so that we can continue to support the growth of hospice care for children on a world wide basis.
Mrs. Sunderman has generously made available a limited edition of signed and numbered lithographs of "Towards Light". Each print is priced at $395.00.
If you have questions regarding the lithograph or would like to place an order, please call Children's Hospice International at (703) 684-0330 or 800-2-4-CHILD or e-mail CHI at info@chionline.org.
About the Artist:
Marilyn Sunderman provided works for the collections of such people as Jacqueline Kennedy Onassis, Princess Al Sabah of Kuwait, former California Governor, Edmund Brown and His Excellence, Sheikh Khalifa bin Zayid. She has had shows in major art capitals throughout the world. Ms. Sunderman passed away on December 8, 2000 from acute leukemia. Her family has established a Marilyn Sunderman Foundation that is affiliated with Yavapai College, Sedona AZ.